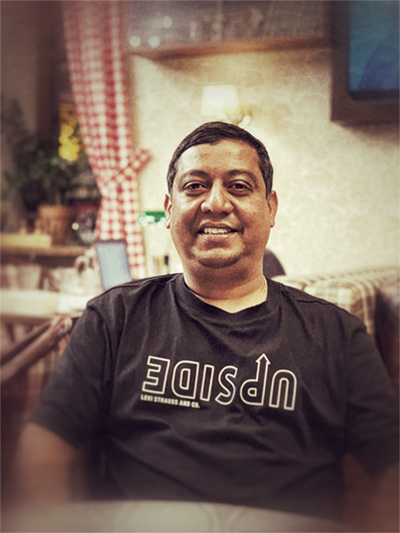 Well, I guess if you are reading "About Clifford Misquith" then I must have informed you to check out my blog! If this is not the case and you are truly interested in reading about me…. then…
Clifford Lionel Sandesh Misquith
As christened by my beloved parents Lawrence Misquith and Veronica Misquith way back in the year 1973 on the 15th of September, being the last of the 4 boys, I must say I hated being the last in the family thought everyone I meet still say "it's nice to be the last", pampered, spoiled etc…. never enjoyed that privilege.
Cedric, Conrad and Cresswel my siblings all talented in their own ways, art, Music, Food and creativity or just about anything that needs to be done by hands! Bikes, Cars, tools, Leather, Music learned it all from them….except the computer bit!
Being born in Mysore, a beautiful and quite town where I did most of my schooling and where I spent a good deal of my early years. my dad being a govt official had a transferable job and we got to check out a few schools around in places like St. Joseph's Convent, Chitradurga and St, Aloysius Mangalore. did a few rounds of schools around Mysore too, Nirmala Convent to start off, St. Josephs Primary School and Mahajan's High School.
After schooling, I felt grown up and wanted to stay in a hostel, ended up in St Joseph's PU College and Hostel Bangalore this was between 1989-91. After seeing my scores in Pre-University, I had to listen to my dad and get back home. Completed my Bachelor's Degree in Computer Science at Mahajana First Grade College, Mysore, the batch of 1991-94.
Not wanting to study further at this point, and wanting to earn my own bread, I got into a Job and landed in Bangalore….Sales was the option, I could talk, I probably could convince. 17 years later, surviving 2 cycles of recession, bruised but haven't given up!!! (Should I call it the "Never say Die" attitude…?)
The year 2001, the Milestone of Marriage, I always had this image of a person who would be my partner in life, met Dr. Jyothi (www.doctorjyothi.com) through a few friends and she was the type of person I used to always think of as an ideal partner (Which she indeed is) ….was married on the 11th of May 2001. and almost 10 years later….glad that I did not have a Second thought….
December 2010, Joined Your Practice Online India Pvt. Ltd. that belongs to Dr. Prem Jeevan Lobo a childhood friend of mine from class II in Chitradurga. I'm coining this as DESTINY!
Here are pictures from 1981 (I think) and now in 2019 almost 38 years later