In my list of a few things a Man must own in his life are;
1. A Victorinox Swiss Army Knife:
The Swiss knife has it all, get used to and you would know what this wonder tool can do.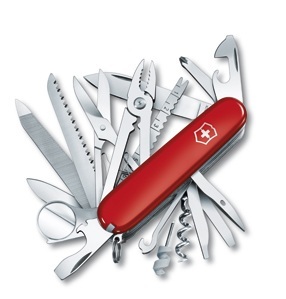 From Wikipedia
Victorinox (pronounced /vɪktɵˈriːnɒks/ vik-tor-EE-noks) is a knife manufacturer based in the town of Ibach, in the Canton of Schwyz, Switzerland. Since its acquisition of rival Wenger in 2005, it has, once more, become the sole supplier of multi-purpose knives to the Swiss army.
History
The company was founded in 1884. Since 1891, the company has delivered knives to the Swiss army. Their famous emblem—a cross in a shield—has been used by Victorinox since 1909. That year, the mother of founder Carl Elsener died and he named the company "Victoria" in her honor. In 1921, with the introduction of "inox" (the French term for stainless steel is acier inoxydable) into their products, the brand and name of the company became the present "Victorinox" ("Victoria"+"Inox").
On 26 April 2005 Victorinox acquired Wenger, the other official supplier of the Swiss Army knife, announcing that it intended to keep both brands intact.
In 2006 the company had a workforce of 900 employees and produced about 34,000 Swiss Army knives, 38,000 multi-tools, and 30,000 household, kitchen, and knives per workday. Approximately 90 percent of its production is exported, to more than 100 countries.
Recently, Victorinox has licensed the Swiss Army brand and shield logo to companies producing watches, writing tools, luggage, and clothing.