Wanted to write about a cocktail but didn't know which one, remembered the good time we had in Scotland doing the "Pub Crawl", It was there that we got to hear about the Jägerbomb, was under the impression that this cocktail must be something out of this universe when it was explained to us, but it was the most simplest of cocktails. The Jägerbomb is a cocktail that is mixed by dropping a shot of Jägermeister into a glass of Red Bull energy drink
The excitement was the way the bartender made a Jäger-train, and the domino effect along with the cheering of the crowd is what got us high!
Broad whiskey glasses of Red Bull are lined up, shot glasses of Jägermeister are then balanced on the lips of the glasses. The first shot glass is pushed over which falls into the Red Bull in the next glass and simultaneously knock over the next shot glass, creating the domino effect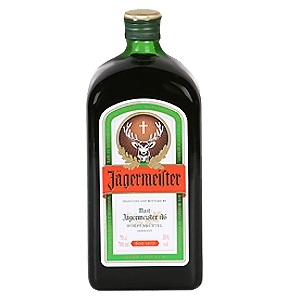 The Jägermeister is a herbal liqueur which is made in Germany, contains 35% alcohol (70 proof) and comes in the distinguishable and recognizable green bottle contain 56 different herbs, which could definitely make it a Health Drink!
If you would like to know more about jägermeister, visit their website here.
Cannot make reviews of the drink, as we had downed a few pegs when we tried it.
Anyways try it and let me know! Cheers!!!